Greetings!
Summer is finally here.  Although this message is in honor of the longest day of the year, I am keeping it short.
What are you most grateful for over the past Spring?  What intention do you have so you may continue this feeling throughout the coming Summer?
For me the answer is easy and it is in the following paragraphs.
Last Wednesday I had the honor of being part of "Yoga and Meditation in the Light". The Permanent Missions of Japan and India to the United Nations sponsored the event. It was humbling – and great fun!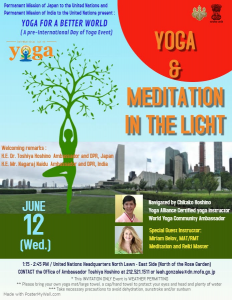 During the break, I went over to the Rose Garden which was in full bloom. You can see it behind us on the left in the photo below. Maria Elena Sosa Garnica from Mexico took the video there.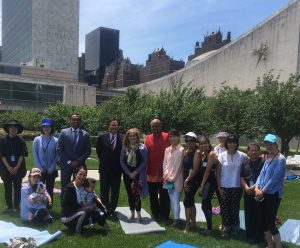 Ambassador Hoshino is standing next to me. Ambassador Naidu is next to him. Madame Hoshino is wearing the peach blouse. Maria is the 3rd from the right in the white top. Valerie Kennedy, president of the HCUND, attended as did board member Luz Thoron MacArthur.
After the hatha yoga which was wonderfully led by Chikako Hoshino, whose spouse is Ambassador Hoshino, I moved the group under some trees. Their shade protected us and the babies who came blessed us with their smiles.
During my meditation, we used the color blue with our Breakthrough Breathing.  Once stabilized within, we were able to visualize a blue wave of peace and rejuvenation for all sentient beings, Nature and our planet Earth.  In a powerful synchronized moment, the UN was having a conference on the Ocean and Law of the Seas to protect the waters.
I was so grateful to be involved in this that I intend to be of service to others in more events and gatherings of this kind: large and small/city and country.  I also do this now digitally by offering "Embracing Earth", a 20-minute meditation to rejuvenate yourself and our planet.   When you get it, you can be part of a global community aspiring for positive growth and a planet we can pass on to future generations. Today is the perfect day to start.