City streets send up pulses with rhythms of life.
Iridescent vibrations of heat,
Wave hands like clouds and sink into the root.
Sun glows into
Yellow moon floating like a ripe peach in the evening sky.
A velvet whisper caresses my limbs.
Glowing so deeply, I move through lush waves of air
On the scents of dreams in the balmy nights.
Green hills pushing towards the sky,
Clusters of flowers with their faces turned up to the sun,
These stretches of earth refresh
Cool, quiet movements.
Wings of the angels brush us gently
As the wind moves through metropolis and dale.
It is all the same–each expression an act of supplication.
Life speaks in a cabal, carefully opening the gates
If we only know how to know.
On her soul the aspiration ascends.
Open hearted to offer an assortment of modalities to help others, Miriam Belov is grateful to be a woman of experience and intuition. A pioneer in the mind body spirit field, she shares her psychic energy healing expertise in a graceful and effective manner.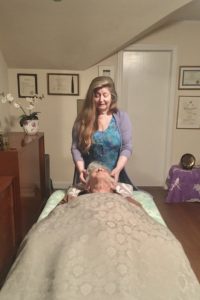 Miriam has done on site research and teaching in America, Europe, The Middle East and India.
---