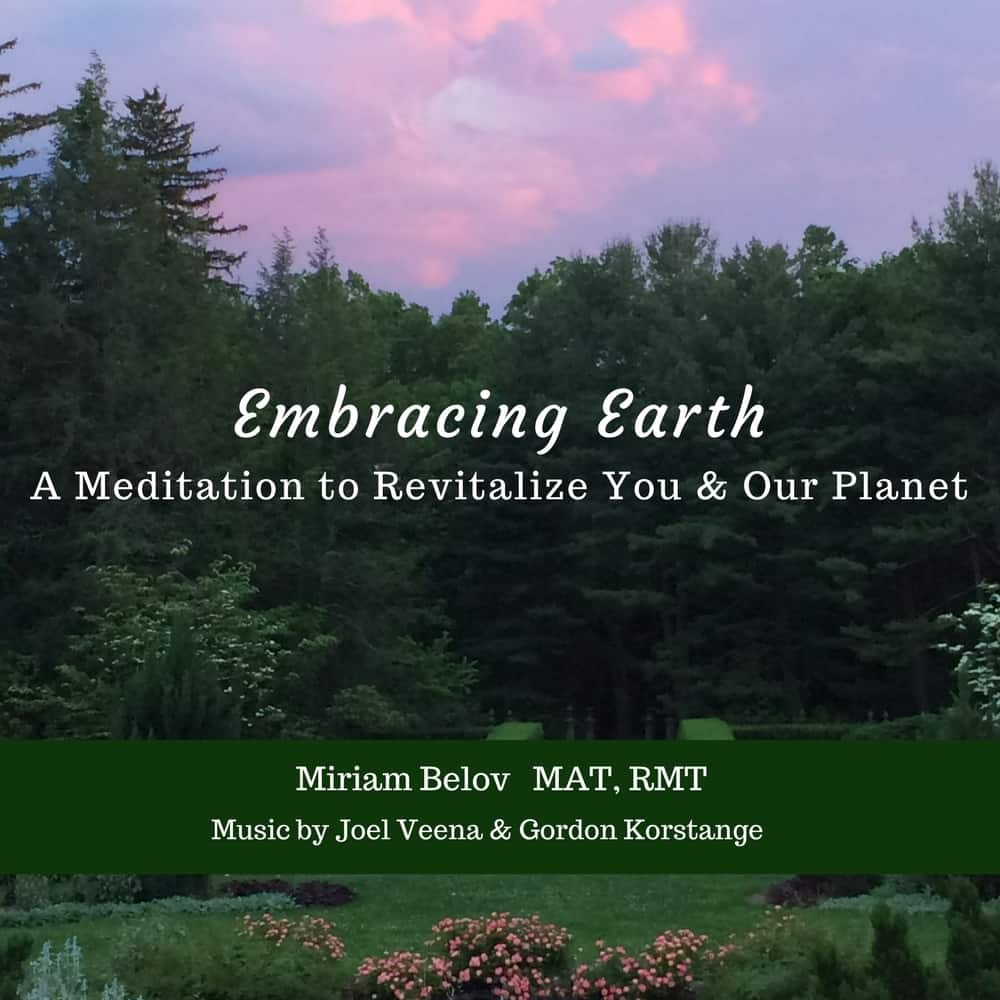 "Embracing Earth"
"Embracing Earth" is a 20-minute audio meditation with music. You will revitalize yourself and our planet while intimately feeling your own connection with Nature. Please enjoy the sample tracks below.
Welcome
Consecration Music
Dolphins Swimming in Big Pods
"On the edge of time as you rest in your spirit, invoke the grace.  Deep as in the intensity of a primal landscape, you feel all creation while the glow of your soul – laser white in aspiration – hews the path through the dense environs.

Abundant splendor blooms in the Lotus jungle. The scent intoxicates your very body.  Each cell becomes conscious.  The very center of each and every cell in your body vibrates with peace, love and health. 

You are peace. 

Your cellular consciousness is released: illuminating your soul, filling your whole being here and now.  It surrounds you in a glow of green light. You are in your circle of power: you emanate loving rejuvenation – for yourself and for the earth.

See this powerful Light, Force and Consciousness flowing in a clockwise direction, encircling the globe: bathing all sentient beings, all of Nature.  Radiating out to all peoples, the forests of old growth trees, dolphins swimming in big pods… flowing around and through our fragile globe, Mother Earth, and your own being—as Matter and Spirit unite, evolving by the Supramental Light."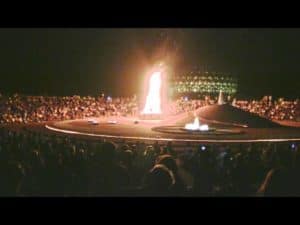 Here are 2 quotes from the 4 very wise people I incorporated into the work:
"The best remedy for those who are afraid, lonely or unhappy is to go outside, somewhere where they can be quiet, alone with the heavens, nature and God. Because only then does one feel that all is as it should be."
Anne Frank
"As a single footstep will not make a path on the earth, so a single thought will not make a pathway in the mind. To make a deep physical path, we walk again and again. To make a deep mental path, we must think over and over the kind of thoughts we wish to dominate our lives."
Henry David Thoreau
The journey in creating this audio began with my participation in the 1st Earth Day in 1970.  I was aware of the fragility of our climate then but never thought that I would be seeing such extreme weather in my own lifetime.  Sadly, the accelerated effect of various components, especially by our own species, has created unprecedented events.
In 2023, it has become evident that we are no longer in climate change but in climate crisis! We must take action to halt and then reverse it. We can each do simple acts each and every day to be part of the solution:  recycling, using reusable bags instead of plastic, turning off electricity when not in use, cloth napkins, and reusable straws. These all help!
We can easily see these in the brutal hurricanes Harvey, Irma, Jose and Maria during the hurricane season of 2017. Also during the same summer, there was record-breaking heat in western Europe and the northwest of America. And in the winter of 2018, 4 devastating Nor'easters hit the northeast of America. The global experiences of fracking-induced earthquakes in the US midwest as well as the tsunamis of southeast Asia all add up to the results that we are now living: radical shifts in nature.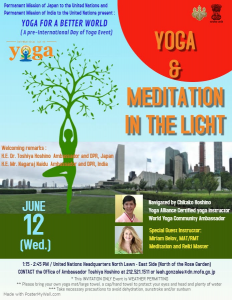 I was also honored to be asked to participate in the 1st yoga and meditation event on the grounds of the United Nations Headquarters in NYC. The Permanent Missions of Japan and India to the United Nations sponsored the event. It was humbling – and great fun! Ambassador Hoshino of Japan and Ambassador Naidu of India both attended along with various participants, including the president of the HCUND. This was in the summer of 2019.
Then in the fall, Greta Thunberg spoke at the 2019 UN Climate Action Summit. To avoid flying, she sailed to North America with the help of Sweden and Monaco. Her brave voyage across the Atlantic and her speech raised the issue in the public's consciousness, but we still have a long way to go and need to take immediate action.
I have continued presenting workshops on ecotherapy and the climate at Greenwood Gardens, NJ, Auroville, India, and the UN Headquarters in NYC. In the spring of 2020, I made a series of video meditations. They are on my YouTube Channel. On June 5th, I participated in the World Environment Day, sponsored by the United Nations' Environment Programme. In October 2020, I did a special event for Believe Inspire Grow (B.I.G.), the women's empowerment organization.
I also did an event for Earth Day for the UN's HCUND in April 2021. Later that year, I was very inspired by the UN climate change conference in Glasgow, Scotland, and posted a long blog about solutions people can immediately do for a greener future. Then later in November, I posted a video with a short visualization that people could do to connect to and empower the COP26 meeting.
In 2022, 18 solar panels were placed on my roof. It felt so great to know that I had taken positive action for our planet!! Besides it feeling morally correct, it also lowered my gas and electric bill. Solar power = soul power.
The Great Law of the Native American Iroquois includes the concept of thinking seven generations ahead, about 140 years into the future, to consider if decisions made now would be of benefit to them. Today this concept resonates for sustainability and environmental stewardship.  Do you have seven-generation stewardship?!  It is simple: just think of your children and grandchildren and the world you wish for them.
This audio, "Embracing Earth," can also help.
May it be so.  Amen
---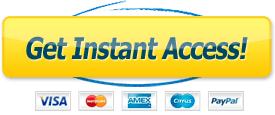 ---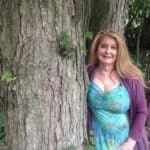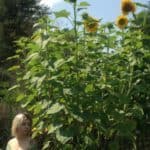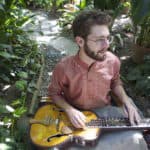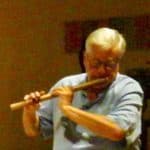 Miriam Belov, MAT, RMT
The founder of The Wellness Agenda, Miriam is the 'Keep Calm' Mentor – a pioneering expert in the mind body spirit field. She holds a dual Masters from Brown University. For over 50 years she has created wellness programs for individuals and organizations, most notably the Metropolitan Museum of Art and the United Nations. Experienced on TV and all media platforms, Miriam was featured on WOR 710AM iHeartRadio, NY's #1 news and talk station.  A #1 Best Selling author –twice, she is also a public speaker who leads meditations. As a certified Reiki Master Teacher, Miriam's psychic energy work moves clients from dis-ease to integral health and from fear to success. Based on her global studies and intuitive wisdom, she creates positive change through her techniques and curated strategies that transform lives.   To access your free gift, please visit www.wellnessagenda.com        Follow us on Facebook at www.facebook.com/wellnessagenda/
Maddye BB, Narrator
Artist, Student.
Joel Veena, Hindustani Slide Guitar
Joel has dedicated himself to the study of the Hindustani slide guitar, studying under – and eventually performing alongside – some of the most renowned names in Indian classical music. With two albums now under his belt, and an extensive touring schedule that has taken him across India, the US, and most recently Europe, Joel has worked to expand the sonic palette of the Indian slide guitar by working with a host of musicians in a variety of styles. Visit JoelVeena.com for more of his music.
Gordon Korstange, South Indian Flute
Gordon has been playing and performing south Indian music on the bamboo flute for 40 years.
We wish to thank Jeanne Korstange, Matagiri, Auroville, Kol Rina, South Mountain Reservation, Greenwood Gardens, the pods of B.I.G.

In memory of Kate and Mathew Klein/my father who was a pioneering N.J. environmentalist, George Nakashima, The Holocaust
Recorded in the green mountains of Vermont, USA.  August 2017.      Cover photo of Greenwood Gardens by Melissa Brown, MD.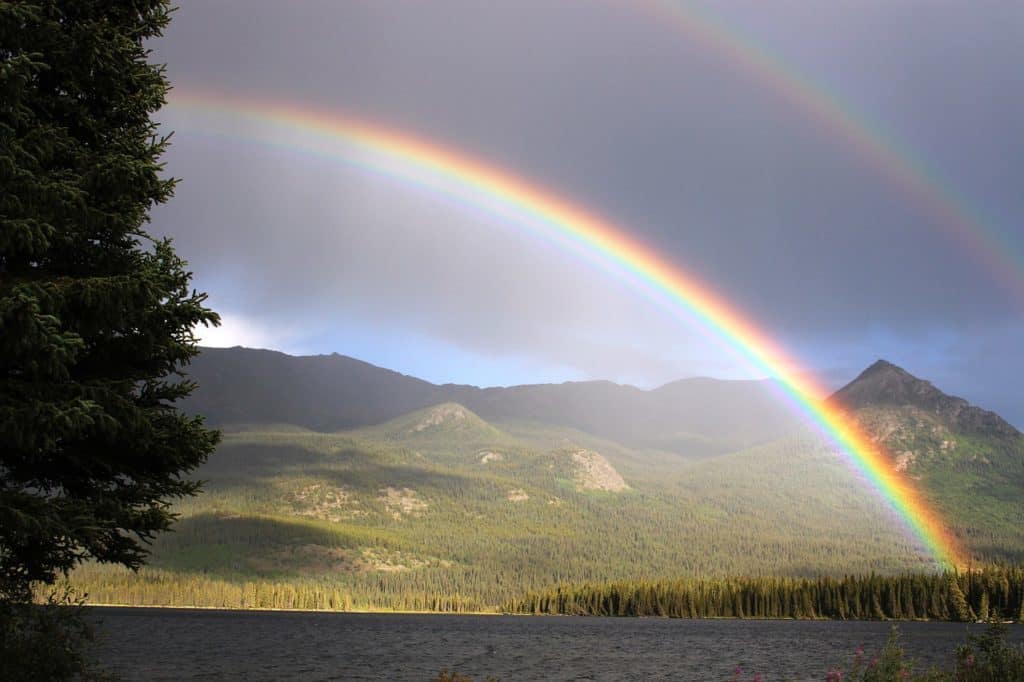 "I have set my rainbow in the cloud.  It shall be for a token of a covenant between Me and the earth."
Genesis ix:12
Copyright @WA Productions
Save
Save
Save
Save
Save
Save
Save
Save
Save
Save
Save
Save
Save
Save
Save
Save
Save
Save
Save
Save
Save
Save
Save
Save
Save
Save
Save
Save
Save
Save
Save
Save
Save
Save
Save
Save
Save
Save
Save
Save
Save
Save
Save
Save
Save
Save
Save
Save
Save
Save
Save
Save
Save
Save
Save