Oprah and Deepak let me know that May is National Meditation Month! Yes, I received an email from them and so want to pass on the good news to you.
Meditation certainly deserves a whole month of acknowledgement. In fact, it deserves your whole life. When you learn how to savor each moment, be mindful of the now and be concentrated in your still point, your whole life expands into a wonderful "present". You can be as happy as the woman is in the image above as she opens her "present".
Do you meditate or practice mindfulness? Do you know how to do Breakthrough Breathing? What do you do to relax in a deep way, each day?
On my website you can find the perfect "present" for all the women in your life who have mothered you and, of course, for yourself.

The video download, "RELAX…Feel Great! Stay Young" , shows you how to relax your body, concentrate your mind and rejuvenate your spirit.
The audio,"Embracing Earth", was created to allow you to listen to it anywhere and anytime to rejuvenate yourself and our planet, our great mother earth.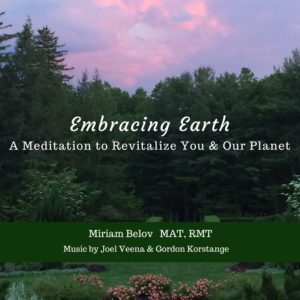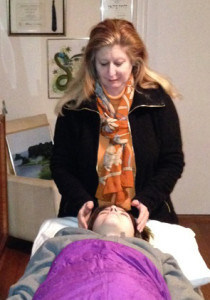 You can also schedule a psychic healing session for yourself or a loved one that incorporates my work as a Reiki Master Healer.
Let's back up a bit and think of all the stressors in your life. Modern existence is filled with them: from the personal to the global, from the intimate everyday life to your professional career. You share with everyone the burden of technological overload and social media addiction.
Finally there is the stressor of the climate. I have been talking about this for years, actually since I attended the 1st Earth Day in 1970. Now we all experience the effects of climate change. A psychiatrist suggested we call it Climate Instability as the weather changes so quickly. Besides reflecting the pressures that nature is functioning under, we as a species also feel these pressures and feel instable, depressed and anxious due to being helpless to the onslaught of the weather.
Over the years it has become very clear that chronic stress can wreck havoc with our bodies. Scientific research points to various illnesses: colds, diabetes, strokes, cancer. We can also develop tensions all over the body from migraines to back pain to knee weakness.
Meditation is the antidote. Once you learn how to meditate and reap its benefits you can enjoy optimal wellness in all aspects of your life. It may not cure everything but it will certainly lessen the negative effects and release more endorphins and dopamine into your system to counteract the cortisol that is being released under tension.
I had the great joy of starting off the month with 2 wonderful programs. The first was on May 1 at Scooch a Mi in Chatham, NJ. Entitled "Rejuvenation Meditation Reiki", I was able to share my insights and wisdoms with a wonderful group of women. I enjoy doing my workshops in this lovely boutique because its mission is one of giving back and mindful shopping. I have usually done them in spas and gardens but this is a lovely environment filled with beautiful objects to walk around in to do several mindfulness exercises.
So glad the workshop heralded in Meditation Month and it was on a Wednesday. I have started my "Wellness Wednesday" posting and this event was the 1st one on Instagram.
Due to demand, there will be another one in the series on June 13th, Thursday, about the energy centers in your body: the chakras. Mark your calendars.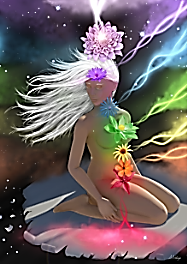 The next day on the 2nd, I had another event but this was in NYC. It was organized by the Hospitality Committee of the United Nations Delegations. I have done several programs with this wonderful organization and Thursday was a joy. Women from the diplomatic corps, including the spouses of the Japanese and Korean Ambassadors, gathered on a beautiful sunny afternoon in an elegant home on the upper East Side. This was especially appropriate since it came after the start of the new Reiwa era in Japan. Empress Masako's parents were in NYC when her father was the Japanese Ambassador to the UN. Many of us knew them and all admired her mother.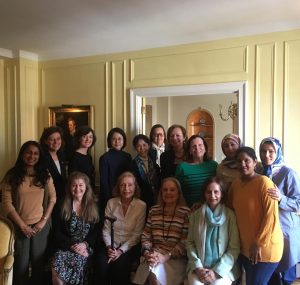 A few insights by remarkable women which the participants appreciated:
Oprah said that "…The voice that truly matters is the silent voice of…consciousness, aliveness." Centuries earlier Jane Austen remarked that "An interval of meditation…was the best corrective of everything dangerous." Mira Richard, a woman of great spiritual insight, who was born in Paris but eventually led the Sri Aurobindo Ashram in Pondicherry, India as The Mother shared, "We are always surrounded by the things of which we think."
The universe gave me the "present" of these 2 programs and the opportunity to lead various meditations – heart centered, cellular consciousness, full body – with the diverse women who attended each. I was certainly filled with gratitude and grace.
I hope the same is true for you when you give yourself the "present" of being conscious, calm and filled with peace. Every day, every moment, can be uplifting and healing for you if you so choose.
Here's to a marvelous May of meditation and may all good things be with you!