October is here. You are really into autumn with its joys of brisk days and cooler nights. Gone are the lazy hazy days of summer. Your plans that you made a while back are coming into focus. Goals are moving towards fulfillment.
The air is filled with the aroma of cinnamon, apple cider, and pumpkin pies. It is also filled with heightened anxiety.
In preparation for coping with the intensity of the season due to the upcoming US presidential election, the continuing plague of COVID-19 with its societal, economic, and political fallout, and the mounting climate crisis, I am offering 3 complimentary workshops.
You can attend them on zoom. These will transform your overwhelm into calm and authentic optimal wellness.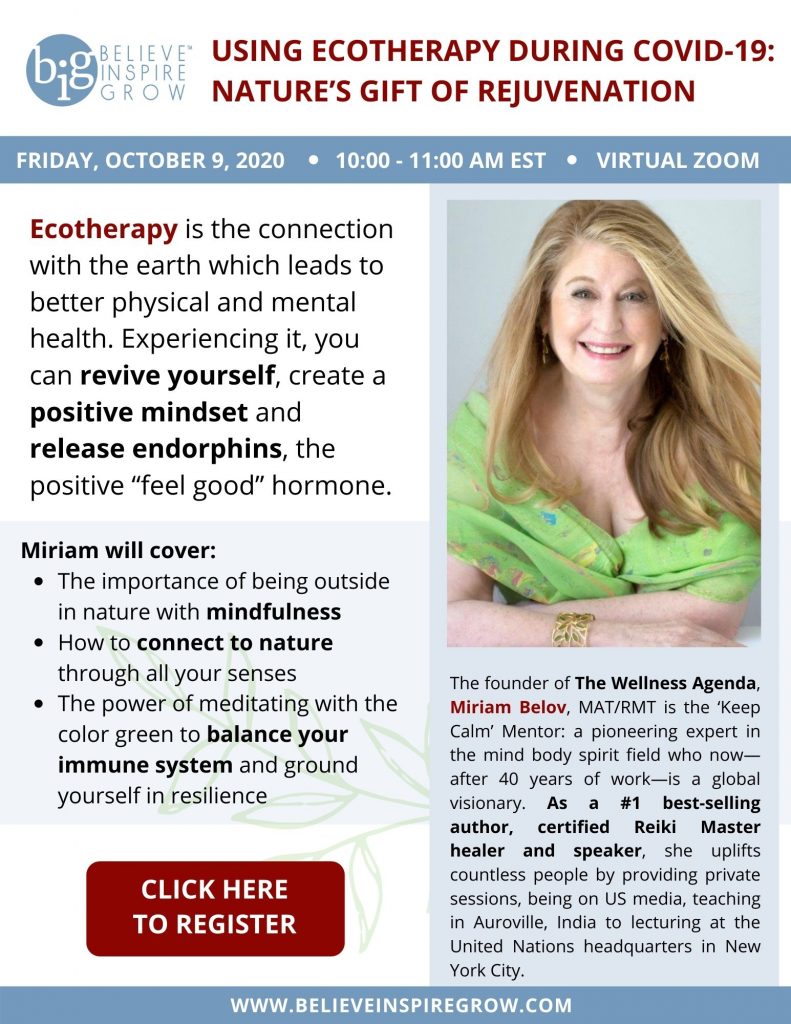 The 1st event is on Friday, October 9th. It is being given through B.I.G., Believe, Inspire, Grow/ a women's empowerment organization. Entitled "Using Ecotherapy During COVID-19: Nature's Gift of Rejuvenation", you will learn all about ecotherapy and how you can use it to revitalize yourself right now. Either living in an apartment with plants you have nurtured or having access to woods to walk in, the benefits of green energy are there for you.
You only need to become attuned to it. I recorded an audio download, "Embracing Earth", which can help you do just that. It is a 20-minute meditation with music. You will revitalize yourself and our planet while intimately feeling your own connection with Nature.
You live in a high tech, low touch society. This condition had been exacerbated by the pandemic and its ramifications. Ecotherapy helps to transform the chaos and fear into order and positivity with the help of nature. It is really important to learn about ecotherapy now and store up nature's rejuvenation during the fall before winter sets in.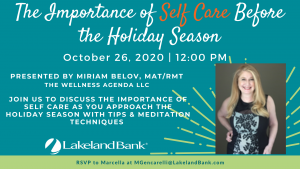 The 2nd event is towards the end of the month on Monday, October 26. It is under the auspices of Lakeland Bank, entitled "The Importance of Self-Care Before the Holiday Season."
The Holidays – starting in November with Thanksgiving and going through December and New Year's Eve – are always a time of festivity and now, especially, stress.  We have had to pivot with celebrations earlier in the year and these will also demand some creative thinking and planning!
There certainly is a lot to accomplish so that you can be with family and friends in a safe and healing environment for all the upcoming special days. Get yourself ready with tips and tools you can use to prepare yourself so you can enjoy the Holiday Season!
RSVP: to Marcella at MGencarelli@LakelandBank.com
I hope that these 2 sessions will help you take advantage of nature's energy with ecotherapy and then your own energy with self-care to really get ready for enjoyable and fun months at the end of the year.
Both are available to you for free through the sponsoring organization. I am doing a 3rd session in the month but it is closed to the public and only open to the diplomatic corps of the UN.  Sorry about that but use the opportunities of the 2 that are available for you!
If you are – or have been – a member of THE UN DIPLOMATIC CORPS, please reach out to HCUND to register for my special event on zoom at the end of the month.   WWW.HCUND.ORG
Looking forward to "seeing you" soon on zoom. Have an outstanding October!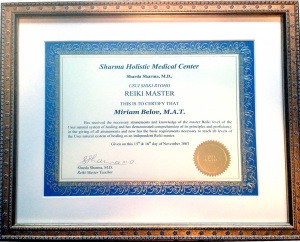 My gift to you during the month of October is special pricing when you schedule:  
A private healing session which includes meditation techniques for you – or someone you love – to learn.
Past life readings which are especially insightful at this time.
Sometimes you just need someone to speak with and I am open to sharing sacred time and space with you from my perspective and energy work.
You can contact me through my website. Just fill out the form on the Services page. I wholeheartedly look forward to being of service to you during this challenging time.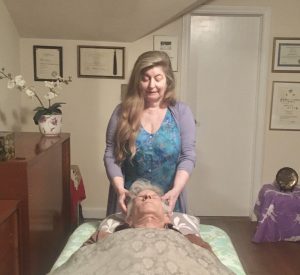 As a certified Reiki Master Teacher, my psychic energy work moves clients from dis-ease to integral health and from fear to success. I create positive change through my techniques and curated strategies that transform lives. 
Using my mind body spirit tools, you experience Health, Peace & Success here and now. Let me help you with these effective meditation techniques, bespoke programs, and mindful wisdoms. As this skill set becomes yours, you transform into your own Power Person: Balanced, Happy, and able to Inspire others!
Weaving spiritual insight into your everyday life allows you to experience a whole new level of confidence and certitude.  You can then go forward with your goals and desires – integrated and sincere.
During the pandemic of COVID-19, I am doing these healing sessions long-distance: you in your home and me in mine. As a Master healer, I can do this. There is no difference if we are physically together or not. We can do FaceTime quite easily if you are in the US.  If outside, WhatsApp is available.


The founder of The Wellness Agenda, I am the 'Keep Calm' Mentor: a pioneering expert in the mind body spirit field who now – after 40 years of work – is a global visionary. As a #1 best-selling author, consultant, speaker, healer, and media producer, I uplift countless people by providing individual sessions, presenting to companies, being on US media, teaching in Auroville, India, and lecturing at the United Nations headquarters in NYC.
With a dual Masters from Brown University, I create bespoke wellness programs for many organizations, most notably the Metropolitan Museum of Art, the US Dept. of Labor, and the Estee Lauder Companies. I appear on TV and social media platforms and was on WOR 710AM iHeart radio, NYC's #1 news and talk station, as a wellness advocate.
Subscribe to my YouTube Channel