I sit here writing this in between nor'easters and attending events for Women's History month and for International Women's Day on the 8th.
I had the privilege of being invited to several at the United Nations' headquarters in NYC.  Some photos of the wonderful gatherings are below!
As Mother Earth has been churning, so mothers and other women all over the world have been showing their energy. Amazingly, besides the snow and wind, it was a record-breaking high of 76 degrees in NYC on February 21st!
Speaking truth to power is taking on great velocity – speeding awareness and change. Clearly we are in a time of transition and action. Women are expressing their empowerment. Things are being shaken.
Now, more than ever, you need to maintain an inner balance and calm. You need to live consciously. Then you can do your best from a place of wisdom and compassion – for others and for yourself!
Conscious living is something to which you can aspire, awaken, and put into practice–no matter whether you've chosen it or it has chosen you. It can become a powerful way of life!
I am happy to be an author in this book, along with the 46 other women who've enriched and re-directed their lives to transform into a new way of being.

My story, "The Phoenix", traces back to my maternal grandmother and forward to my daughter as I move deeply into my own path which often took me around the world.
Gratefully, I ultimately had the inspiration to share it with you through this anthology.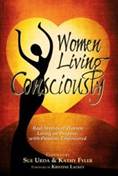 To read the book, purchase it here.
To continue your conscious journey, you can also join me on April 13 when I shall be giving a workshop in Chatham, NJ through BIG, a women's empowerment organization.
Here are some photos from an amazing day at the UN on the 8th: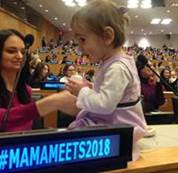 One of the organizations I am a member of is Women's International Forum which has monthly talks on current issues.  For this month WIF collaborated with various mothering groups and this conference room – which is usually filled with diplomats, etc. – was filled with moms and their babies!!  It was joyous** #MAMAMEETS2018 was in place of the diplomat's name or country.
The president, Sofía Herrera Cubillo, brought her son who is being held by her spouse, the Ambassador from Costa Rica.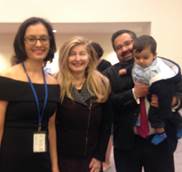 United Nations Women for Peace Assoc. invited me to "Women in Media".  As we all know, media plays a huge role in developing gender stereotypes which need to be changed. The sweeping success of Wonder Woman and Black Panther are propelling this change forward.
Joan Lunden was the moderator.