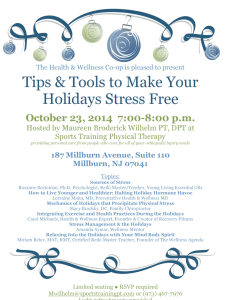 This event is hosted by the Health & Wellness Co-Op based in Millburn/Short Hills, NJ. of which I am a member.
The Mission of The Health & Wellness Co-Op:
Our primary goal is to address patients' health and wellness concerns.
We strive for the highest level of excellence in coordinating care across all disciplines.
We represent a comprehensive array of patient care for all members of the family.
We listen to our patient's most immediate needs and act on their concerns.
We collectively answer our patients' desire to obtain excellent local professional care.
The Health & Wellness Co-Op includes a physician, certified reiki master, chiropractor, physical therapist and wellness mentor. We are all women practitioners who bring a variety of perspectives to the topic of Stress to help and be of service to you- both men and women, especially as the Holiday Season is approaching.
October 23, 2014  7:00-8:00 p.m.
Hosted by Maureen Broderick Wilhelm PT, DPT at
Sports Training Physical Therapy
providing personal care from people who care for all of your orthopedic injury needs
187 Millburn Avenue, Suite 110
Millburn, NJ 07041
Topics:
Sources of Stress
Rosanne Bostonian, Psychologist, Reiki Master
How to Live Younger and Healthier: Halting Holiday Hormone Havoc
Lorraine Maita, MD, Preventative Health & Wellness MD
Mechanics of Holidays that Precipitate Physical Stress
Stacy Brodsky, DC, Family Chiropractor
Integrating Exercise and Health Practices During the Holidays
Carol Michaels, Health & Wellness Expert, Founder & Creator of Recovery Fitness
Stress Management & the Holidays
Amanda Aymar, Wellness Mentor
Relaxing Into the Holidays with Your Mind Body Spirit
Miriam Belov, MAT, RMT, Certified Reiki Master Teacher, Founder of The Wellness Agenda
We are, from left to right: Maureen Broderick Wilhelm PT, DPT  Sports Training Physical Therapy; Miriam Belov, MAT, RMT, Certified Reiki Master Teacher, Founder of The Wellness Agenda; Lorraine Maita, MD, Preventative Health & Wellness MD; Carol Michaels, Health & Wellness Expert, Founder & Creator of Recovery Fitness;  Amanda Aymar, Wellness Mentor;  Rosanne Bostonian, Psychologist, Reiki Master;  Stacy Brodsky, DC, Family Chiropractor