Deeply honored by the invitation from Mrs. Ban to attend the United Nation's 69th Birthday Celebration, I rearranged my schedule and was there!
What a happy evening for a happy birthday.
It was presented by the United Nations in collaboration with the Lang Lang International Music Foundation.  The speakers included H.E. Mr. Ban Ki-Moon, H.E. Mr. Sam Kahamba Kutesa the president of the 69th Session of the UN General Assembly, Mr. Alec Baldwin who represented the Lang Lang International Music Foundation, and Mr. Maher Nasser, Acting Head of the Department of Public Information. For 69 years the UN has been the largest global organization with an agenda for peace and security for our fragile globe.
It is an international group of leaders which also includes NGOs and interested individuals.  Secretary General Ban Ki-moon has strived to open it up further to citizens and people's groups.  A good example of this is when he marched along with thousands of others in the streets of NYC for the Climate March this fall!

The evening consisted of a Concert which was held in the General Assembly Hall at the UN Headquarters in NYC.  The Hall had been under renovation and this was the first gathering in the new space.
How clean and shining it is!  May there only be good and honest meetings in it with positive resolutions for all!
Lang Lang, the UN Messenger of Peace, performed with an International Youth Orchestra which was conducted by Manuel Lopez-Gomez.  What is there To say about Lang Lang's playing?!  It is clearly divinely inspired.  The notes were heard even after he took his fingers off the keys of the piano and his feet off the pedals.  It was a privilege to hear and see him perform live.
The International Youth Orchestra played with joy and vigor along with students from the Lang Lang International Music foundation which he created due to his sense of service.
The concert included Tchaikovsky, Mozart, Bernstein's Mambo from West Side Story and Sting.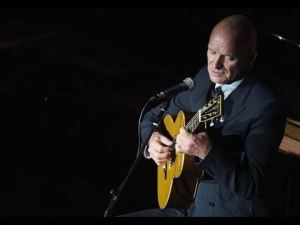 Yes, Sting was a special guest and he collaborated with Lang Lang and the orchestra in jazzy arrangements of his songs "Fragile" and "Englishman in New York"
Need I tell you that the audience was on its feet and dancing in their seats?!  I was and so were many  dignitaries.
It was a joyous evening and may it augur good for our cherished planet!*!
Above photo is of Mme. Lu Hailin former president of Women's International Forum, Mrs. Ban Soon-taek the spouse of the Secretary General of the UN and myself.