Greetings,
Do you know where Glasgow is?  It's in Scotland.  Do you know why I mention it in the title?  It's where the UN Climate Change Conference will be held starting soon at the end of the month and continuing into November.  Above is Glasgow's Pollock Park, voted the best park in Europe 2008.
What does this have to do with you?  Everything! No matter where you live, you are being affected by climate change.  Just reflect on the past few months and the strange, intense weather you have had near your home.  I had flooding from Hurricane Ida for the first time in my house and there were tornadoes in my state of New Jersey (not Kansas)!?!  From all the scientific data these are bound to intensify unless you and everyone else do something about it.
I have been involved with climate change since 1970 when I attended the 1
st
Earth Day. Since then I have been taking mindful action and writing about it.  My most powerful creation has been the audio download:
*"Embracing Earth"
* A 20 minute audio meditation with music.
*You will revitalize yourself and our planet
*while intimately feeling your own connection with nature.
The Great Law of the Native American Iroquois includes the concept of thinking seven generations ahead, about 140 years into the future, to consider if decisions made now would be of benefit to them. Today this concept resonates for sustainability and environmental stewardship.  Do you have seven generation stewardship?!  It is simple: just think of your children and grandchildren and the world you wish for them.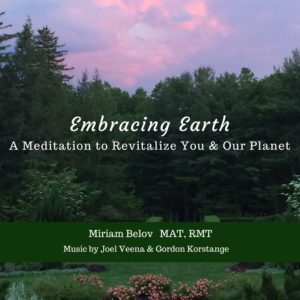 "Embracing Earth" is easy to download.  Once you have it, you can listen anywhere and at any time so you can be proactive and resilient.  Following the visualizations will empower you!
Interspersed among them and the music are inspiring quotes.  Here is one:
"The best remedy for those who are afraid, lonely or unhappy is to go outside,
somewhere where they can be quiet, alone with the heavens, nature, and God.
Because only then does one feel that all is as it should be."        Anne Frank
There is no reason to feel helpless by the magnitude of the situation.  You can affect change by putting pressure on all levels of government, how you are investing your money, speaking up at corporate meetings.
Even on a personal level, you have great power by incorporating changes in your everyday habits by: recycling, not using plastic bags but cloth ones, being aware of the food waste you accumulate. Use green cleaning products, save water with toilet and shower eco-devices, take more showers rather than baths and keep them short.  Vintage clothing is all the rage and cuts down on producing new clothing.  Eat more plants, less meat, and be sure they are all organic.
There will be a lot of coverage of the Glasgow conference in the coming days.  Be a part of the COP26's commitment about the climate crisis with countries, civil society, companies, and people, just like you.  By using "Embracing Earth", you will add your intention to this global gathering! It also makes for a great gift for the approaching holidays.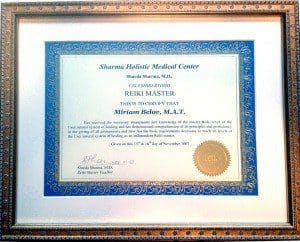 My gift to you during the months of October and November is special pricing when you schedule a private healing session that includes meditation techniques for you – or someone you love – to learn. I also do past life readings which are especially insightful at this time.
You can contact me through my website, www.wellnessagenda.com.  Just fill out the form on the landing page.  I wholeheartedly look forward to being of service to you during this challenging time. You can have a complimentary discovery call with me when you fill out the form.
As a certified Reiki Master Teacher, my psychic energy work moves clients from dis-ease to integral health and from fear to success. I create positive change through my techniques and curated strategies that transform lives.
During the pandemic of COVID-19, I am doing these healing sessions long-distance: you in your home and me in mine. As a Master healer, I can do this. There is no difference if we are physically together or not.


The founder of The Wellness Agenda, I am the 'Keep Calm' Mentor: a pioneering expert in the mind body spirit field who now – after 40 years of work – is a global visionary. As a #1 best-selling author, consultant, speaker, healer, and media producer, I help countless people by being on US media to teaching in Auroville, India, and lecturing at the United Nations headquarters in NYC.
With a dual Masters from Brown University, I create bespoke wellness programs for many organizations, most notably the Metropolitan Museum of Art, the US Dept. of Labor, the Estee Lauder Companies, The Open Center and Shiseido. I appear on TV and social media platforms and was on WOR 710AM iHeart radio, NYC's #1 news and talk station, as a wellness advocate.
Subscribe to my YouTube Channel