When the All USA Meeting in Taos ended, my daughter and I went to Santa Fe. The city was a gentle reentry into the general culture, integrating many aspects of New Mexico.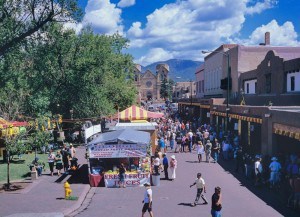 It's the capital of the state so there are several large governmental buildings along with the grounding presence of the Native American everywhere, often seen in the use of adobe for most of the structures. The historic Plaza is an oasis of green grass and colorful flowers where people can easily stroll about since cars are not allowed.
And stroll we did a few hours after we arrived and with a great guide! A high school friend had moved to Santa Fe years ago and he graciously told us what it was like to live out west as he shared his time with us. He knew everything about the city and the people. Indeed, he knew everyone we saw as the people stopped to say hi. The next morning he took us on a ride outside of town to show the various mini climates and homes encircling the capital. Then we went to his home and studio. He is a remarkably talented artist>  Portraiture is his chosen field as we saw in his many paintings. My daughter enjoyed playing with his two Jack Russell terriers while I appreciated his work and the sensitivity he brings to it.  Seeing the town with him was great.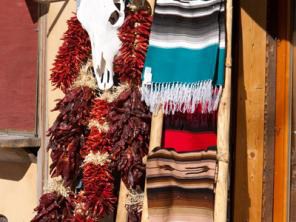 The interesting shops range from international couture to local artisans' wares – especially the exquisite turquoise jewelry. Homes on slightly paved roads give way to wilderness only a few minutes out of town. Mountains and sage brush encircle the place.
I had hoped to stop in Chimayo and visit the church there but could not. El Santuario de Chimayo is a humble adobe church which many believe was built on the "site of a miracle".  The "Holy Dirt" from behind the church is said to hold "remarkable curative" powers and people of all faiths go there to pray and be healed.

Fortunately though, we were able to stay at The Hotel Chimayo de Santa Fe which captured the ambiance of that small town.   As you can see in this photo of the lobby, there is a shrine on the left that is reminiscent of the church and quite powerful on its own.
The hotel is also a Heritage Hotel which means that it has 70 works by local artists and gives a percentage of its profits to local organizations and also to the Chimayo Cultural Preservation Association to help preserve it culture and traditions for future generations.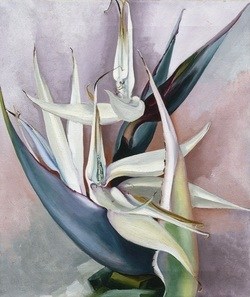 Georgia O'Keeffe settled in the area which attracted an artistic and cultured group. It is easily understandable since the area is so beautiful and one can feel the spirit of the land. Today there are hundreds of art galleries and many artists who reside in Santa Fe.
In her honor there is the Georgia O'Keeffe Museum in town and her lodgings in Abiquiu are also part of the Museum. We went to see the current exhibition, the first to feature the artwork created in Hawai'i by Georgia O'Keeffe and Ansel Adams.
I stood in front of this painting for as long as possible.
I love Birds of Paradise but had never seen a white one!
Georgia O'Keeffe, White Bird of Paradise, 1939. Oil on canvas, 19 x 16.
Georgia O'Keeffe Museum. Gift of Jean H. McDonald. © Georgia O'Keeffe Museum