Do you want to visit a beautiful place on the East Coast?  It is so special and architecturally important that it was listed in the National Register of Historic Places and then designated a National Historic Landmark by the National Park Service, one of 169 in Pennsylvania.  It is also on the World Monuments Watch List.
You can come to the George Nakashima Compound in New Hope, Pa on June 12th for the opening of the Golconde exhibition from 3-5 pm.  Mira, George's daughter, is in the picture below, welcoming others to the site.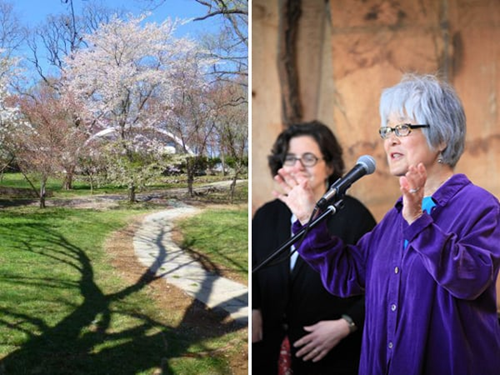 Golconde, The Introduction of Modernism in India, celebrating India's first reinforced concrete building.
Yes, several years in the making and postponed due to the covid plague, we are now able to present this show about this very unique building in India.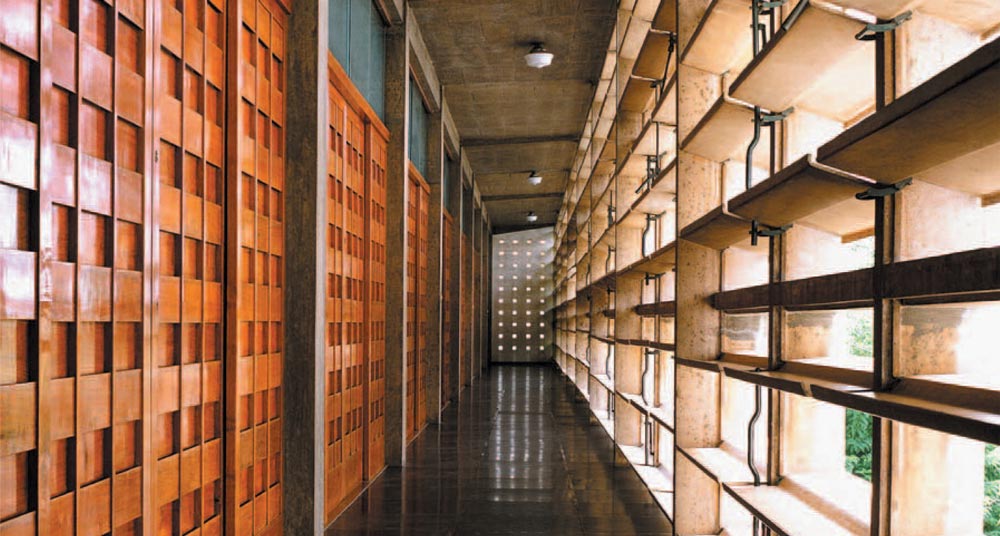 Nakashima & Golconde
While working in Japan for Czech-American architect Antonin Raymond who had collaborated with Frank Lloyd Wright on the Imperial Hotel, George Nakashima traveled throughout Japan extensively and learned about traditional Japanese architecture. In 1936, after conceiving its initial design and construction, Raymond sent Nakashima to Pondicherry, India for three years and entrusted him to work as project architect on Golconde, a dormitory for the Sri Aurobindo Ashram.
Golconde is the first reinforced, cast-in-place concrete building in India. Nakashima altered Raymond's design to accommodate the region's hot tropical climate, adding a precast barrel-vaulted roof and plenum to insulate from the sun. While at the Ashram, Nakashima became so immersed in its philosophy and way of life that he became a disciple of spiritual leader and philosopher Sri Aurobindo, taking on the Sanskrit name 'Sundarananda' – one who delights in beauty. Here he practiced "Integral Yoga," the yoga-based philosophy of selflessness that influenced Nakashima's work at Golconde and throughout his entire career.
Nakashima worked with a team of devotees and residents of the Ashram, a mix of skilled and unskilled workers, most with no prior construction experience. Completed in 1942, Golconde features experimental forms that combine early Modernist influences such as straight lines, creating new concrete form work and climate-specific environmental adaptations, such as louvered walls, ventilating breezeways, horizontally slatted sliding teak doors, all in a north-south orientation set amidst what is now lush landscaping.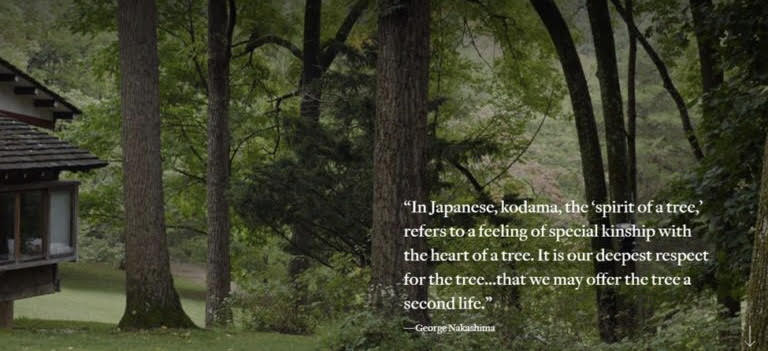 You can walk the grounds which have been inspired by the Japanese aesthetic and planted with gorgeous trees.  Nakashima was born in Seattle, went to MIT, and then traveled the world seeking inspiration.
Nakashima has become globally famous for his crafting beauty out of wood, giving trees a second life.  He is a mid-century icon in the Arts and Crafts movement and his work is throughout the world in many houses of worship, offices, homes, and museums, including The Metropolitan Museum of Art in NYC which I helped to facilitate as a member of the Advisory Board to The Nakashima Foundation for Peace.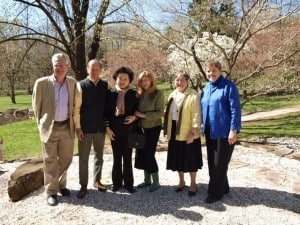 By going to our website, you can also learn about our other initiatives and the Altars for Peace which we have placed inspired by Nakashima's Dream.  You can also read our prayer for Ukraine as we stand in solidarity for peace.