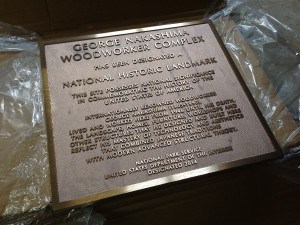 Celebrating the 110th birth year of George Nakashima and the dedication of the National Historic Landmark plaque deserved cake and champagne. And that is exactly what everyone got who joined us for this festive day! Over 100 people gathered in the Arts Building on June 14th to participate in the Nakashima Foundation for Peace fundraiser. Those who braved the hot and humid weather were treated to a heartfelt afternoon.
We were welcomed by Mozart duets performed live on flute and violin. Mira, Nakashima's daughter, introduced the Mayor of New Hope, Larry Keller. He gave a fun speech about the area and how George and Marian always supported community events.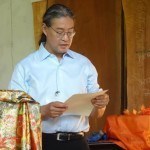 Satoru Amagasu, Nakashima's grandson, read a quote from George's book, "Soul of A Tree", about settling in New Hope.
"To settle on a piece of virgin land was for me the culmination of a long quest… Our land … has become the core of our existence."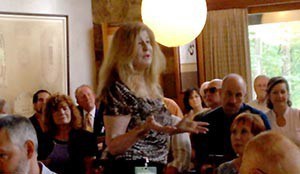 I, then, led us all in a meditation. You can also see this on my youtube channel. "As we gather in New Hope on this honored land to celebrate George Nakashima's 110th birth year, let us be mindful.
Breathe out your distractions. Breathe in this time and place made sacred by our coming together.
In the late 1930s in India, Sri Aurobindo gave Nakashima the name of Sundarananda, "One who delights in beauty", and he considered himself a karma yogi devoted to creating works of beauty out of wood.
George fulfilled his prophetic name and, as we all know, is internationally lauded as a great American artist. At the end of his life, Nakashima's vision was to uplift Beauty to the service of Peace.
Let us meditate.
Please close your eyes. Continue breathing deeply, and gently, into your body as you exhale any discomfort.
Now, send white light. Visualize it streaming forth from your heart. We start here in New Hope, then include the magnificent Sacred Peace Altar in the Cathedral of St. John the Divine in NYC. This beam continues to south India and Auroville where the Sacred Peace Table for Asia resides and finally onto Moscow to the Academy of the Arts where the other Sacred Peace Table is for Europe.
Encircle our dear planet in this Nakashima Light of Beauty, Peace & Love.
May it be especially empowered today."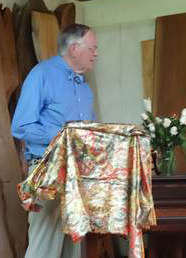 Scott McVay, former head of the Dodge Foundation/prime mover of its poetry festival, past president of the Chautauqua Institute and remarkable personality gave a beautiful remembrance of Nakashima. This included his vision from 1984.
"A while back there appeared a great bole of a tree, a Walnut…In a small but firm voice the bole asked to be realized…Gradually a few people became interested in the project and suggested we make six Altars – one for each continent. It will be a symbol, a token of man's aspirations for a creative and beautiful peace… Enthusiastic contagion would be useful, as peace, the world over is uppermost in our consciousness. It must be a joyous peace, not a fear or absence of war…."
A few words about the cultural and architectural significance of the property were given by Richard Mei, an American diplomat who held a post at the United States Embassy in Tokyo, Japan, and Frank Hayes, the associate director, northeast region of the United States National Park Service.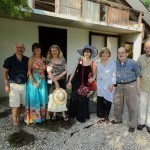 The plaque was unveiled by Toshi Amagasu, George's great-grandson, members of the Board and the speakers.
After having toasted Nakashima's life and many accomplishments with sparkling champagne, we then all moved out onto the grounds. Our plates were filled with a cornucopia of desserts, including the birthday cake – a delicious one which was one of his favorites.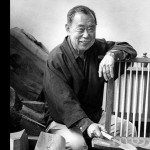 The champagne reminded me of how George often had a sparkle in his eye, even while doing the serious work of living an inspired – and inspiring – life. For as he said about the Altars, his life was surrendered, "… to the Divine Consciousness to end in a most beautiful aura of love."