As the days shorten and the nights grow longer, we turn inwards – resting in the warmth of the heart with family and friends.
Give yourself this chance to feel the holy joy of now.
A bird sighting, the low sun's light, the cold air, the embrace of a loved one: each is a treasured gift.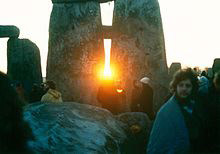 The winter solstice has reverberated throughout ancient history as a deep turning point in the rhythm of the seasons.
The picture is of the sunrise winter solstice at Stonehedge, built anywhere from 3000 BC to 2000 BC in England.
The harvest is in. Gatherings of food and drink are shared before the long winter's night.
As so many traditions attest to: in the deepest dark the greatest light may be born.
Allow this to happen for you.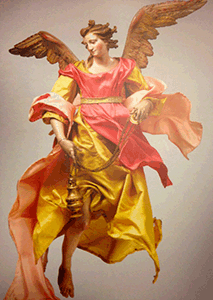 Light a special candle with clarity and intention. Have a small mirror near you.
Place it on your meditation table or in a special place where you may easily see it.
Relax into the deep turning point in you, your inner angel.
Feel the space behind your heart or 4th chakra. Fill it with love and peace.
Allow it to radiate throughout your whole body- down to your feet and then up through your head.
Use the light of the candle's flame to center you.
You may also wish to choose a word or image that resonates for you at this juncture.
As you breathe in the light, you may wish to concentrate on the word/image. As you breathe out, you may relax the concentration.
Become a pillar of light.
Feel the safety and vibrancy of your intention.
Know that you are getting profoundly in touch with your unique light, with your psychic being that has travelled through many eons to be connected consciously with you in this lifetime.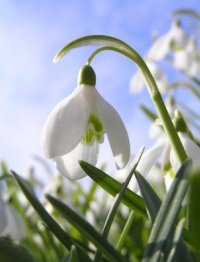 Nestle in its warmth and wisdom.
When you are ready, gently open your eyes. Please hold the small mirror in front of your face. Look at yourself and say, "I love me, I love me totally."
Create an unbreakable bond between your highest self, your soul, and you're your everyday spirit.
Be compassionate and gentle with yourself, as you would with a winter flower, such as this snowdrop, which blooms even in the snow.
I praise you
Halleluiah
Amen