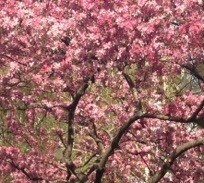 Here in the northeast of America it has been varied weather: with rain, cooler temps and then a sunny spring day with the flowers and trees blooming.  It certainly has kept us on our toes which indeed is one of the lessons of global climate change: to always be in the moment by being aware of the weather which is often not what we were used to.
Being a bit more grounded, there have some miraculous days in the month, filled with beauty and love.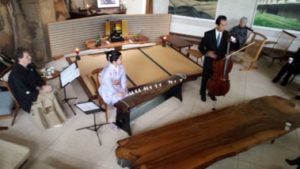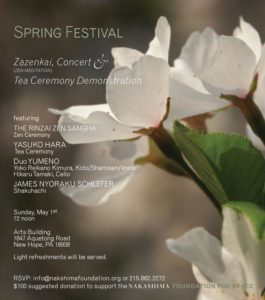 Indeed, it began with a very powerful Zen experience at the Nakashima compound on the 1st of May, A Spring Festival.  Japanese culture was transported down from NYC by several organizations and in the midst of a rain filled day, we were treated to an incredible immersion. The deep chanting of the Rinzai Zen Sangha resonated throughout the Arts Building.  The Omotesenke Chanoyu demonstrated a tea ceremony that was filled with graceful movements and thick green tea with a sweet to experience the taste of tea.  In conclusion the world renowned Duo Yumeno and James Nyoraku Schiefer performed both Japanese and Western classic music with cello, koto and shakuhachi.  The concentration of this day was felt in mind, body and spirit.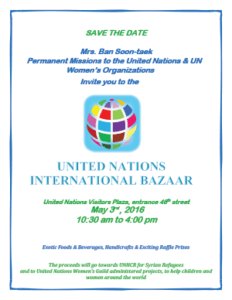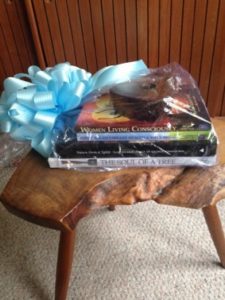 Later in the week it was the United Nations' International Bazaar in its 3rd year.  Due to the overwhelming turnout last year, it was held outside at the Visitors' Plaza.  Alas, the wind off the East River was chilling and the rain came down.  But our spirits were not dampened.  I think the hot Columbian coffee helped, along with all the delicious food from the many countries.  It was really great fun.  Since it was Mrs. Ban Soon-taek's initiative, the turnout was huge, with lots of tv coverage from around the world.  The Nakashima Foundation for Peace donated a gift of books – George's "Soul of a Tree", Mira's "Nature Form & Spirit", and mine "Women Living Consciously" and "Pathways to Vibrant Health & Well Being" and a candlestick holder that Mira made. All proceeds went to help Syrian Refugees/UNHCR.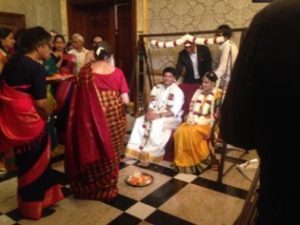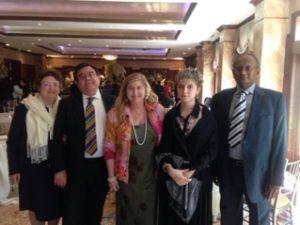 On Mother's Day, my daughter and I shared a very special day.  I had been invited to an Indian wedding, right here in New Jersey.  Off we went to be surrounded by beautiful glittering saris and ancient rituals. Interestingly, there are similarities between the Indian ceremony and the Jewish wedding, both culminating in the festive meal! It was also a bit reminiscent of our trip to Auroville since the wedding party and guests were all connected to Chennai, the populous city 3 hours north.  The Tamil language was used during the wedding, the one used by the indigenous people who live around Auroville.  It is an old and respected one and lovely to hear. How happy everyone was to see the beautiful bride, whose father I knew from the State Bank of India in NYC and Mumbai.  It was an honor to be invited and Maddye and I very much appreciated it. Elizabeth Tucker, Hadrian Tucker/CFO of SBI NY, Miriam, Maddye, Rajan Srinivassan/retired Chief General Manager International Banking at State Bank of India
And now, events Onward:
June 29th

Greenwood Gardens in Short Hills, NJ.

I shall be presenting this with Melissa Brown, MD, CPC.   In this 2 hour mind, body, and spirit workshop, we will help you cultivate your inner oasis with specific strategies to cope with everyday life.  To learn more about the workshop, click here. See clips from last fall

July 17th

The Ledgwood Retreat

 just outside of Hyde Park, NY. 

I shall be presenting about the spinning wheels of energy, the chakras, and how they can help heal us.  To learn more about the day long Retreat, click here.
Here are some ideas for Graduations and Father's Day that can help you and others.
If you need an instantaneous gift for someone special – or yourself, you can access the following download and/or healing session.
You can also easily give an energy healing session