June has so many happy days for us to focus on! Let us allow our joy to dissipate the fear and violence that occur.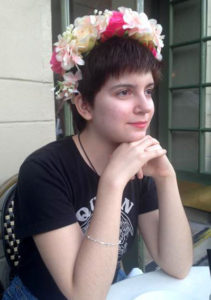 For me the month begins with  Maddye's  birthday, June 1. Here is a picture of her celebrating the day. May it be the beginning of a wonderful new cycle for her ♥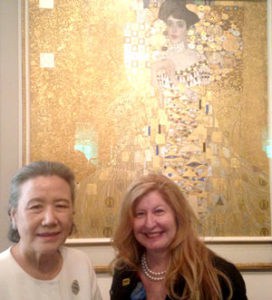 On that day I was also at a moving and elegant gathering at the Neue Galerie in NYC. It was hosted by the UNDWC and the Israeli Mission to the United Nations. Ambassador Ronald Lauder, who had been the US ambassador to Austria, spoke eloquently of his appreciation of Klimt's art and the Austrian art of the time. The townhouse is a gracious setting for his collection. We admired the many paintings and of course, were especially moved by the Woman in Gold, The Portrait of Adele Bloch-Bauer.  I had the good fortune of having a picture taken with Mrs. Ban in front of it. It was very fortuitous for afterwards  the guard did not allow any others to do so.
Ambassador Lauder relayed a funny story about the film of the same name. He had wanted to play himself in it but alas, was not allowed!?! Indeed, he was part of the real life heroic action to retrieve the painting – which had been stolen from the Bloch-Bauer Jewish family during the Holocaust – from Austria, "free it" and bring it to America to his galerie.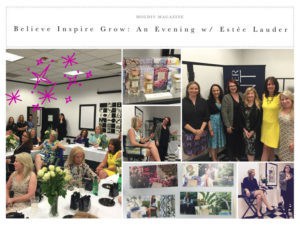 Later in June, on the 15th, I helped to facilitate an event with The Estee Lauder Company and B.I.G. It was at the Short Hills Mall in NJ and, I must admit, a smash! Everyone had a great time, a true win-win situation and I am so grateful! B.I.G. is a woman's organization to which I belong. It is "believe, inspire, grow" and that is just what we did for 25 members that evening. The Estee Lauder team, led by Senada Velija-Kanacevic, did a fabulous job of transforming the VIP room into a beautiful garden filled with roses, food/ drink and lots of pretty product. They focused on the Aerin and the Re-Nutriv lines, with the regional educator – Jennifer  Wackerle – giving lots of information. As you can see from the announcement, three of us from BIG also spoke. I taught about growth and how inner growth and beauty can show outwardly in our lives!
The evening took me back to when I was Origins' wellness expert at the corporate headquarters in NYC and also worked with Estee Lauder in helping them launch their first free standing spa at the Manhasset Mall. It was really pioneering to link women's wellness with beauty at the time, 20 years ago. So glad that this has grown into an accepted concept of importance and value! In the photo I am between Jen Wackerle and Tara Gilvar, the founder of B.I.G.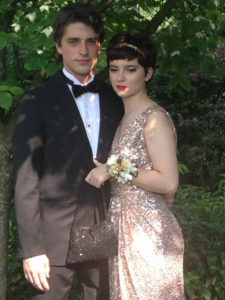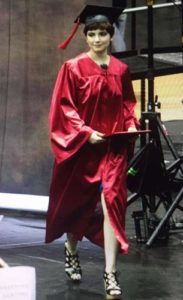 Here is a picture of my daughter, and her boyfriend Will, about to go to their prom on the 20th. Yes, she graduated from high school and we are all so excited!  And here is another photo of Maddye graduating. OK, this is mom's bragging time.
Indeed, June 20th was a very auspicious day for it was the first time since 1967 that the Summer Solstice and the Full Moon were on the same day. Yes, an incredible planetary alignment with bright sunshine and moonlight occurred. Do hope you were aware of it and bathed in its phenomenal power!
May this special light continue to grow in your heart,
shine throughout your mind/body/spirit and
clearly illuminate your way on your path of beauty.
Happy Summer!!

And now, events Onward:
June 29th

Greenwood Gardens in Short Hills, NJ.

I shall be presenting this with Melissa Brown, MD, CPC.   In this 2 hour mind, body, and spirit workshop, we will help you cultivate your inner oasis with specific strategies to cope with everyday life.  To learn more about the workshop, click here. See clips from last fall

July 17th

The Ledgwood Retreat

 just outside of Hyde Park, NY. 

I shall be presenting about the spinning wheels of energy, the chakras, and how they can help heal us.  To learn more about the day long Retreat, click here.