Having moved from downtown to Soho to the slice of land near the Hudson River, the center of the NYC art world is now in Chelsea. Large raw spaces are transformed into white clean exhibition halls. The area pulsates with the exciting works of art that pass through.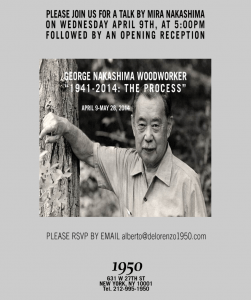 April 9th was a clear day but the wind blew strongly everywhere. In the late afternoon, I drove into the city and there we all were. Not in south India but in au courant Chelsea at the 1950 Gallery to celebrate the opening of George Nakashima Woodworker "1941-2014: The Process". The photos and his pieces of work were familiar since I had often seen them at the studio in New Hope. But here in Chelsea they had a special edge and relevancy to the clean minimalism of today!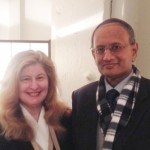 Mira Nakashima and her family greeted me. Jon, her husband, Kevin– her brother, and her son, Ru, and his family were all smiles. We had last met in Auroville in February: gathered around Nakashima's Peace Table for Asia. Now we were sipping wine in this very chic space as others came in the door. Rajan Srinivasan of the State Bank of India arrived, as did Frank Sanchis from the World Monuments Fund. Frank, who is the Program Director for the United States, was here since the Nakashima grounds have recently been put on its watch list, to our collective joy for this appropriate recognition.
The gallery filled and Mira gave a wonderful talk about her father and how his craft evolved throughout the years. People asked questions, mingled until closing and luxuriated in the beauty of his creations.
It is always so very special to see Nakashima's handiwork – anywhere on the planet.